First Peoples
13,000 BC–AD 1518
When the last Ice Age ended more than 15,000 years ago, Mississippi looked much different from today. People migrating to this land walked across the mighty Mississippi River, but then it was just a shallow, braided stream. Native Americans adopted a hunter-gatherer lifestyle—gathering wild plants, fishing, and hunting. Soon these original inhabitants turned to agriculture, cultivating Mississippi's rich soil and creating permanent homes here.  
             
From stunning stone tools and pottery to the sophisticated earthworks of Winterville and Emerald mounds, the material culture and monumental architecture of Native Americans deepen our understanding of the complex, skilled, and innovative peoples who flourished across the Southeast. 
From the Gallery
Explore artifacts, photos, and documents featured in the First Peoples gallery. 
TIMELINE: 13,000 BC–AD 1518
Explore Mississippi
Journey beyond the museum walls and explore the places where history happened and is preserved.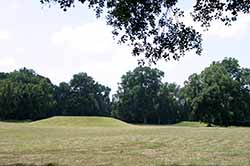 A 128-acre site featuring three prehistoric Native American mounds, a reconstructed Natchez Indian house, museum, and gift shop
400 Jefferson Davis Boulevard
Natchez, Mississippi

One of the largest Native American mounds in America, this archaeological site is located on the Natchez Trace Parkway.
Stanton, Mississippi
Exit parkway at Rte. 553 intersection; follow signs to mound—about 1 mile.
VISIT THE MISSISSIPPI CIVIL RIGHTS MUSEUM
Explore the movement that changed the nation. Discover stories of Mississippians like Medgar Evers, Fannie Lou Hamer, and Vernon Dahmer, as well as those who traveled many miles to stand beside them, come what may, in the name of equal rights for all.